Da Nang is a city that has developed tourism for a long time, with an annual number of tourists up to several million people. So in Da Nang, there are quite a lot of amusement attractions to serve visitors. So we will explore some locations of them. Let's go.
How to travel around Da Nang P1: Weather and Transportation
CENTER AREA: THANH KHE AND HAI CHAU DISTRICT
Da Nang Museum of Cham Sculpture
This is the world's only museum of Cham culture, preserving relics of the ancient Kingdom of Champa.
Han River Bridge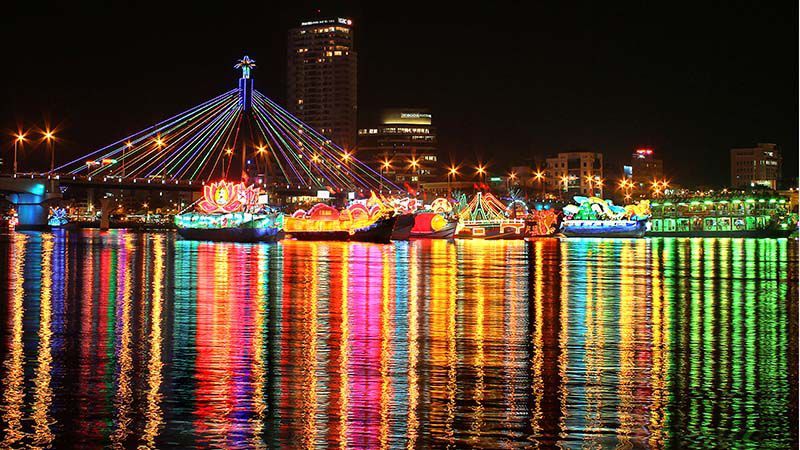 Han bridge was built on the main axis of Bach Dang street, connecting Hai Chau district with Son Tra district. This bridge is the pride of the people of Da Nang. The beautiful bridge shimmering and highlights the city when the night falls. Especially, every night, the Han River Bridge rotates 90 degrees around the centre of the bridge for large ships to pass through. Starting from October 14, 2015, Da Nang government has officially adjusted the hours of Han River bridge, to serve the people and tourists enjoy the "bridge rotates" more favourable.
Accordingly, the Han River bridge turns from 23h – 24h on two Saturdays and Sundays weekly (earlier than 1 hour before). At the same time, pause the vehicle through the bridge before 15 minutes when the bridge starts until the end of the rotates.
Dragon Bridge
New bridge inaugurated in 2013, connecting the road from Danang airport to the beaches of My Khe and Non-Nuoc. Because of the uniqueness, Dragon Bridge becomes a new landmark in Da Nang city. Dragon Bridge is always highlighted by colourful lights, every night. Moreover, at 9:00 pm on Saturdays, Sundays or holidays, "Dragon" on the bridge has the ability to spray fire and spray the water.
Con Market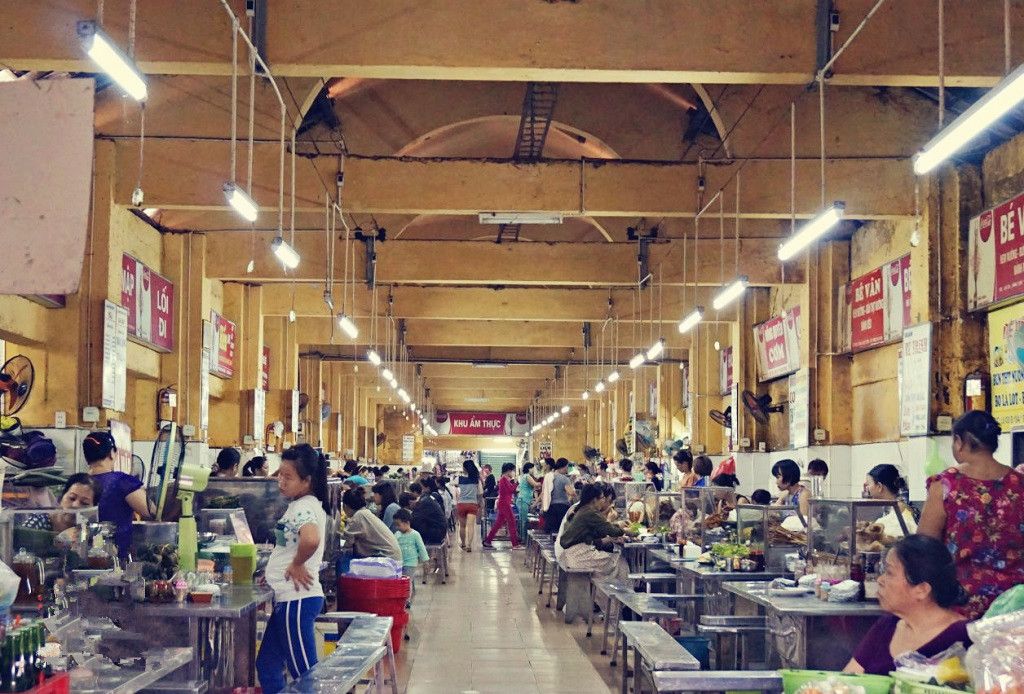 Con market is the largest shopping centre in Da Nang city and the central region. The number of tourists coming to this market is not only for shopping but also a tourist attraction of Danang.
Location: in Hai Chau II ward, Hai Chau district, located at the intersection of Hung Vuong street – Ong Ich Khiem.
SON TRA PENINSULA / MONKEY MOUNTAIN

Located in Tho Quang Ward, 10 km east of Da Nang city centre, Son Tra is considered Da Nang's "the jewel". Including long, winding coastline, and diverse fauna and flora. In addition, the peninsula Son Tra has an area of 4.439 hectares of land. It has a long, green coastline, with the Hai Van pass covering Da Nang city and Da Nang Bay.
Ling Ung pagoda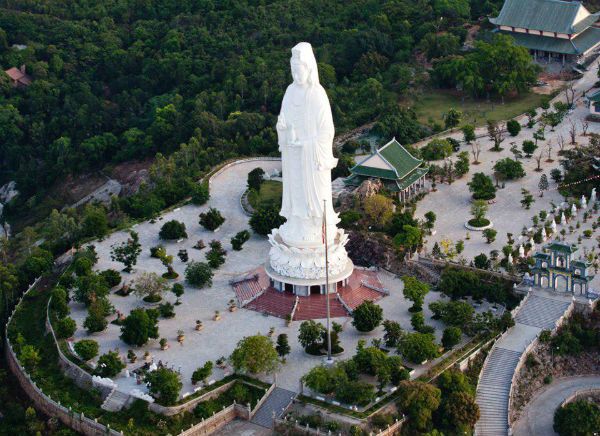 Linh Ung Pagoda in Sontra is also known as Linh Ung Pagoda (different from Linh Ung Pagoda in Ngu Hanh Son mountain) is the largest temple in Da Nang city about terms of scale and art architecture.
If you are a follower of spiritual travel then this is an ideal destination for you. With a beautiful location, large-scale and outstanding architecture, Linh Ung Pagoda is an interesting destination for you.
Angels Stream and Rock Stream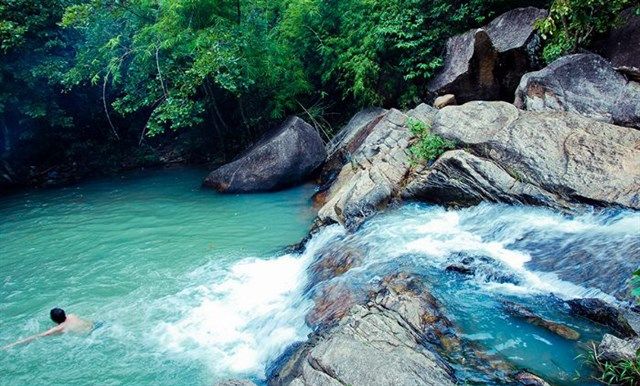 Two beautiful streams are located in Son Tra Mountain, which are popular stops in the tour of Da Nang to Son Tra peninsula.
Bai But (Peace Bay):
Nestled in a very beautiful strait, Bai Beach is the place where peace between the sea and mountains.
THE BEAUTY BEACH IN THE EAST, DA NANG CITY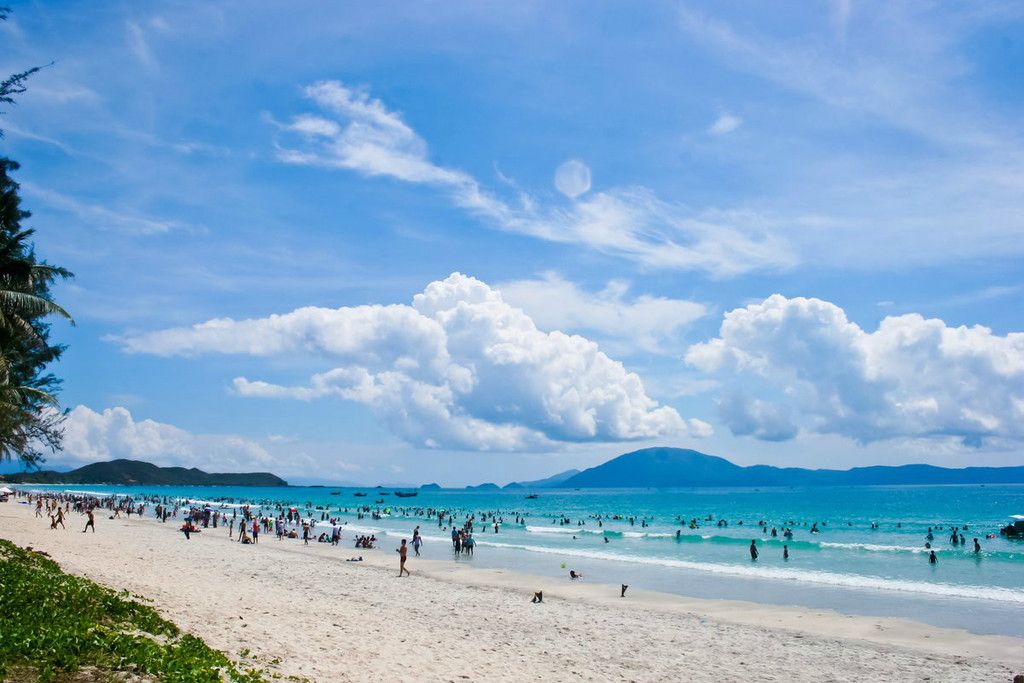 My Khe beach: 3 km from Da Nang city centre, cross Han bridge, go straight to Pham Van Dong street, 1.5 km to the east, you will reach My Khe. This beach is famous for its fine white sand, calm sea waves, warm water all year round, surrounded by coconut trees. Especially, My Khe has been voted by Forbes as one of the six most attractive beaches in the world.
Pham Van Dong beach: This is a public beach built at a cost of 12 billion VND, which is a place to attract local residents and tourists everywhere. Location: Phuoc My ward, Son Tra district, in the East Sea park.
Bac My An Beach is a beach in Bac My An Ward, Ngu Hanh Son District, Danang. Smooth white sand and clear blue water with less temperature throughout the year are the advantages of this beach.
Ngu Hanh Son District
Tam Thai Pagoda is located in the west of Thuy Son Mountain, one of the five famous mountains of Ngu Hanh Son.
Non-Nuoc stone carving village is the place where marble arts and crafts are famous both in the country and abroad. Location: Non-Nuoc stone handicraft in Hoa Hai Ward, Ngu Hanh Son district.

Non-Nuoc beach: 5km long with tourist area with cool hills under Ngu Hanh Son. White sand beach smooth, sloping gentle, smooth waves. Seawater is not polluted, clean, attract tourists in and out of the country to Da Nang tourism.
FAR FROM DA NANG CITY
Ba Na – Nui Chua is a mountain range in Hoa Vang district, 40 km southwest of Da Nang. In Ba Na, visitors will feel four distinct seasons in one day: morning-spring, mid-afternoon, autumn – evening – east. This is the famous destination of Da Nang tourism.
Hai Van Pass:
The Truong Son Range protrudes into the sea. Climbing and hiking, Hai Van Pass is the boundary between the two South-North.
Cam Ne Village:

14 km southwest of Da Nang city, Cam Ne village, Hoa Tien commune, Hoa Vang district, Da Nang city. This place has long been famous for the traditional flower type, was present in the Nguyen Dynasty during the reign.
Tuy Loan ancient village:
The ancient village is located in Hoa Phong commune, Hoa Vang district, about 15km from Da Nang city centre. Tan Loan village is over 500 years old. Moreover, go to the Tuy Loan ancient village, you should not miss the opportunity to taste speciality rice paper and Quang noodle. Because it's very near Da Nang city so you can move to this village easily.
Gieng Troi
It is located in the Ba Na – Nui Chua Nature Reserve, Da Nang, where the famous Ba Na Hills resort. Wildlife is the source of inspiration for people, with the type of trekking, trekking, camping or bathing.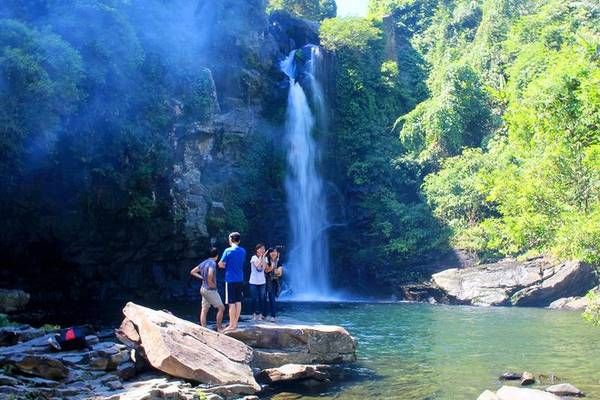 Starting from the car park of Ba Na cable car park, the conqueror has to conquer 7.5 km of steep mountain passes, crossing the forest stream to reach the "spot". Through the first slope, the road is easy to go. That is why this place is a place of isolation and pristine.
Nam O reef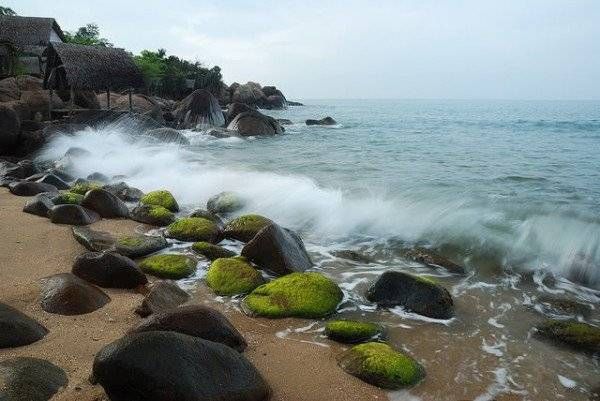 The centre of Nam O Village (Hoa Hiep Nam Ward, Lien Chieu District) is about 2 km south-east of the City. Nam O reef is rich in algae and is home to many species of fish and seafood.
Photo: Internet