Located in the South Central region Vietnam, Da Nang has mountains, plains and sea. The famous tourist attractions in Da Nang include Ba Na tourist resort, My Khe beach, and Asia's largest indoor Fantasy Park. It's also has a lot of landscapes such as Hai Van pass, primitive forest in Son Tra peninsula and Ngu Hanh Son. In particular, It is surrounded by three world cultural heritages, Hue, Hoi An and My Son, and a little further is Phong Nha – Ke Bang National Park. Every year, this city organizes fireworks festival attracting many tourists to attend.
Weather, Time to travel
Da Nang is a city in the South Central region, so it has a tropical monsoon climate, high temperature and less fluctuation. There are two distinct seasons each year: the rainy season from August to December and the dry season from January to July. To avoid the effects of rain and storms, the most beautiful time to visit this city is from February to August. annual. However, if you want to travel economically, visitors should go from January to April by this time, the weather is quite cool, no storms and especially soft service prices than June to August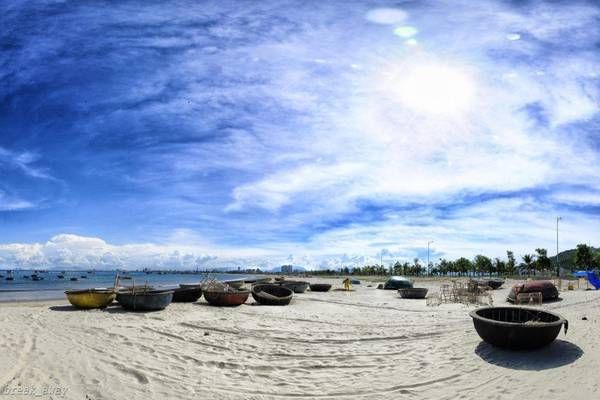 Move: transportation, travel when travelling Da Nang
Any means can take you to Da Nang. In addition to the advantages of the landscape, the convenience of transportation is also an advantage of this city. You can go by plane, train, bus, motorcycle, …
Train: Take a train from Hanoi or Sai Gon to Da Nang takes about 14 – 20 hours depending on the train slow or fast. Traveling from Saigon is longer because of the longer distance.
Fares from Hanoi to Da Nang: 300 – 650,000 VND depending on the type of seats.
Fare from Saigon to Da Nang from 900 – 1.300.000 VND depending on the type of chair.
Aircraft: From Hanoi to Da Nang, fares range from 700,000 VND to 2,200,000 VND, depending on the airline. It takes 1 hour and 30 minutes to get to Da Nang.
Jetstar – Hotline: 19001550 – order at www.jetstar.com
Vietnam Airline is available at www.vietnamairlines.com.vn
VietJetAir – Hotline: 1900 1886. Order at website: www.vietjetair.com
Passenger car: Passenger car to Da Nang is often the North-South bed. Ticket price and quality are not much different, you can refer to the ticket price of Hoang Long, Mai Linh, Hlink, Thuan Thao, Phuong Trang, Sinh Cafe …
In Hanoi, you can take the bus at Giap Bat station, Underground car station.
In Saigon, you buy tickets at the Eastern Bus Station.
Note: It is advisable to buy in advance, or call in advance to avoid a ticket expiration. Or onto the car crammed.
Ticket prices range from 500 – 700 VND, 18 to 20 hours from Hanoi / Sai Gon to Da Nang.
Inside the City:
Motorbike: Convenient and easy to explore the attractions of Da Nang tourism. Can be rented at the hotel or rent a motorcycle, prices from 90,000 VND – 150.000VND/car/day.
Some points of motorbike rental can be referenced:
– Lam Nguyen Motorcycle Rental Company, Tel: 0942.35.35.35 and 0965.977.768 (Meet Anh Do) – Address: Ho Huan Nghiep Street – Ngu Hanh Son Street.
– Binh Minh Motorcycle Company: 0986.86.29.86 – 0938.006.843 (Anh Khoa). Address: 82 Thach Lam, Son Tra District, close to My Khe beach.
– Truong Dat Motorcycle Company 0969.722.744 (A. Tuan) and 0969.822.844 (A. Dat), address K65 / 86 To Hien Thanh (very close to My Khe beach), accepting delivery at the hotel and airport.
– Anh Tuan Motorbike Company near Da Nang airport. Address 143/16 Tieu La. Contact: 0905.70.80.90 (A. Tuan) or 0988.000835 – 0988.000.875 (Hoang Anh)
Taxi: Some taxi companies are popular
Mai Linh Taxi – (0511). 3.56.56.56
Airfares – (0511) .3.27.27.27
Han River Taxi – (0511) .3.72.72.72
Taxi Vinasun Green – (0511) .3.68.68.68
Continue: How to travel around Da Nang (Part II): Visit locations
Photo: Internet